Welcome to the Dark Side: the 2018 Dodge Challenger SRT® Demon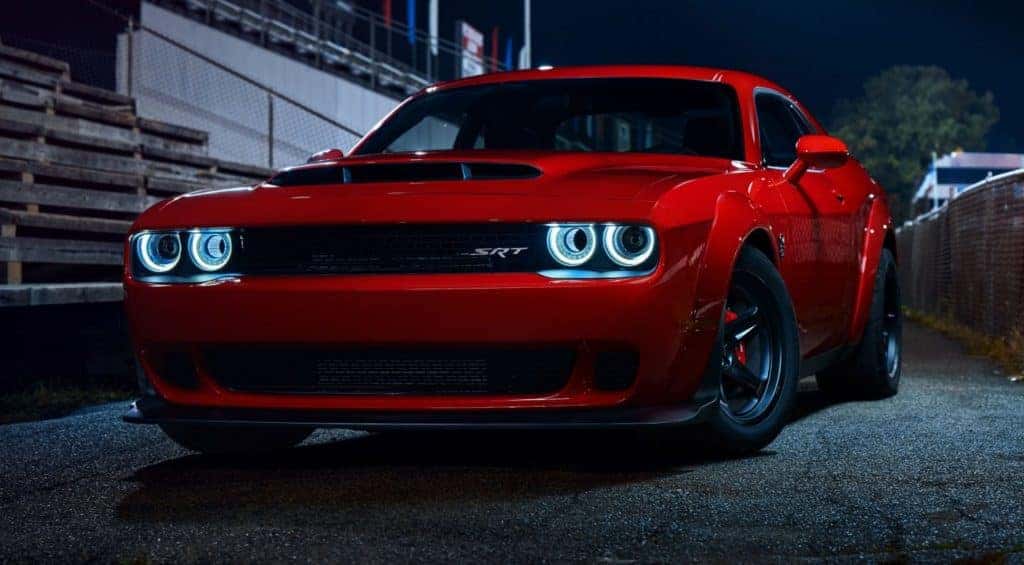 At Nyle Maxwell – Taylor, your local Dodge dealership, we are patiently awaiting the arrival of the 2018 Dodge Challenger SRT® Demon. However, we decided to get your adrenaline going with a few snippets of what this beast has in store.
Engineered to be an exhilarating ride every time you buckle up, the Dodge Challenger SRT Demon truly doesn't fall short. Beneath the hood lies a supercharged 6.2-liter HEMI® SRT Demon V8 engine, which integrates a torque reserve launch system to ramp up your ride even further. To complement its prowess, this Dodge marvel comes equipped with 315/40R18 Nitto NTO5R™ drag radial tires for an unparalleled experience. Thanks to its impeccable makeup, the Dodge Challenger SRT Demon is deemed the world's fastest* 0-60 production car, clocking in at just 2.3 seconds.
Not only acting the part of a ravenous sports model, this vehicle also looks the part. Its wide body and firm stance create a stable and smooth ride, while an Air-Grabber™ hood scoop is also featured, which measures at a whopping 45 square inches. The latter system works in correlation with the engine, ensuring it's being provided with cool air for desirable driving dynamics.
Opt for the available Demon Crate, and you can further increase your road presence in multiple ways. Included in this are features like front runner drag wheels, a fender cover, a personalized IP badge, a tire pressure gauge, and a performance air filter.
If you think the 2018 Dodge Challenger SRT Demon sounds impressive now, wait until you lay eyes on it. To see when it's set to arrive, feel free to give us a call at 877-35-2206. In the meantime, feel free to check out our current cars for sale in Taylor, TX.
*Excludes non-mass production vehicles and hybrids, based on 0-60 times.