How Do I Check Tire Tread Depth?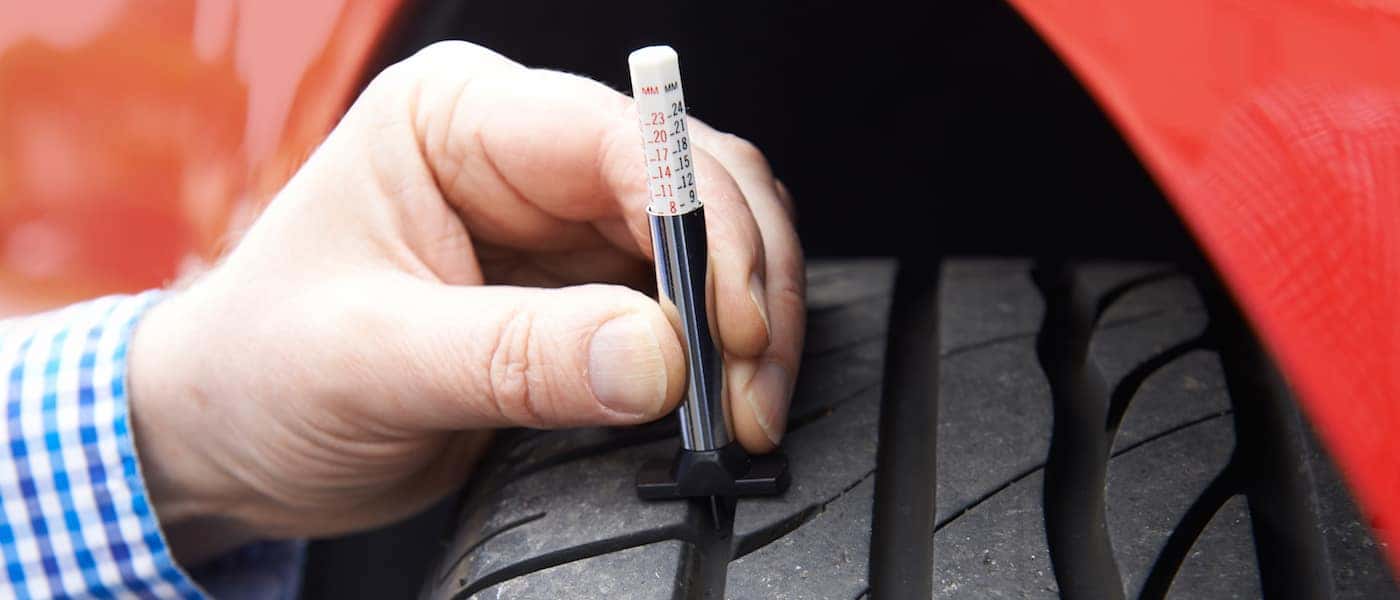 Are you wondering how to check tire tread depth? Don't worry, because the Chrysler, Dodge, Jeep, Ram experts at the Nyle Maxwell CDJR of Taylor service center have you covered! Learn all of this and more! Don't hesitate to contact us if you have any questions.
What is the Recommended Tire Tread Depth?
New tires have a tread depth of about 10/32 or 11/32 of an inch (about a third of an inch). Winter tires, tires designed for off-roading, as well as some pickup trucks and SUV tires typically have deeper tread grooves.
When is it time to replace your tires? At 2/32 of an inch, according to the U.S. Department of Transportation. Proper tire tread depth is essential for safe driving on the roadways, not to mention with proper tire care, you're extending the life of your tires.
The Penny Test
While a ruler is the most accurate way to check the tire tread depth, a penny is a great household tool that gets the job done. Follow the steps below to check the tire tread depth.
Insert a penny with Lincoln's head face-first into a tire tread groove.
Observe if Lincoln's head is covered and no longer visible between the grooves.
If you can see all of Lincoln's face, that means your tire treads are 2/32 inches deep or less and it's time to replace them.
Repeat this process on all four tires and in multiple locations on each tire.
More Ways to Check Tire Health
There are special tools available in College Station to check your tires, such as a tire tread depth gauge, or tread wear bars that have a visible mark built into the tire which indicates the 2/32 inch mark. While you are checking your tire tread depth, some more things to inspect include:
Tire pressure
Any visible tire damage
Tire rot or disintegration
Wheel alignment
Maintain Your Tires at Nyle Maxwell CDJR of Taylor
Bring our vehicle to the local service center for routine maintenance and the team of technicians will inspect your tires for any signs of wear or issues. When it's time to replace them, simply visit our tire center or give our service center a call! Don't forget to explore our service and parts coupons for added savings.
More From Nyle Maxwell CDJR of Taylor
Power, speed, and attitude are the primary ingredients of any muscle car, and color is a critical part of that. Your Challenger needs to reflect your chosen attitude with purpose, so Dodge Challenger colors have always been meant to convey a wide range of styles. Below, we'll go over the Dodge Challenger exterior colors…

The JL generation of Jeep Wrangler includes an awesome array of paint options. From the wild to the subtle, we'll go over the many Jeep Wrangler colors below. If you have any questions about new Jeep Wrangler colors, or any other aspect of the Jeep Wrangler, be sure to get in touch with us…

There's a RAM 1500 for everyone, thanks to the RAM 1500 trim levels. The RAM 1500 trims include such well-respected names as the RAM 1500 Big Horn and RAM 1500 Laramie, both of which make for excellent cruisers and working vehicles in the Georgetown and Cameron areas. Here at Nyle Maxwell CDJR of Taylor we offer information and…